Meet Spencer Hsu, MBA Tech Realtor
---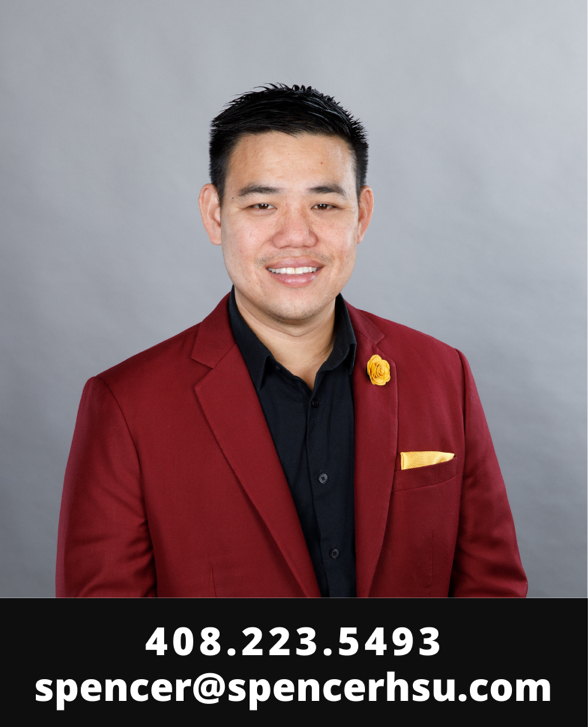 Born and raised in San Jose, Spencer Hsu has resided in the Bay Area for over 34 years. Using his knowledge of the area to his advantage along with his analytical framework, he quickly climbed his way to the top and became a top 1% Realtor in the Bay in record breaking time. (In 2020, he has helped 35 families buy and sell locally for over $43MM) Clients can be sure to trust his expertise and advice when it comes to buying and selling homes in an efficient and modern framework.
Earning his MBA at Santa Clara University, Spencer uses his strategic nature to navigate the real estate market. Having worked as a Software Sales Manager, his experience there is what contributes to his highly successful method and work ethic today. By systematically analyzing numbers and situations to make a calculated decision, he educates and ensures his clients get the best outcome possible while protecting their investments. Clear and quick communication is key in today's fast-paced market so he is always quick to respond and provide feedback to any questions a client may have seven days a week.
Wanting to share his insights and advice on a public level, Spencer launched a YouTube channel with over 670 subscribers currently tuning in, amassing over 40,000 combined views. Releasing two videos a week in addition to podcasts, he hopes the public utilizes the transparent data and insights to their own benefit to get a pleasant experience and competitive edge.
When he isn't helping clients buy and sell real estate every day, you can find Spencer traveling the world with his amazing and supportive wife and trying out new restaurants all over the Bay Area in between showings. In a nod to his tech roots, he loves learning about new technology and companies, but also have vast experience on investing in real estate across asset classes and the country. Competitive by nature, he enjoys playing tennis matches and is rated 4.5-5.0.